This guide is an introduction to a little Greenlandic gem, namely the coastal ferry Sarfaq Ittuk, which carries passengers back and forth along the west coast of Greenland. For many years, we have been organizing trips to Greenland, where part of the journey is made by coastal ferry.
This guide provides an insight into the experiences that await you on a trip – long or short – on board Sarfaq Ittuk.
Transport and experience in one – a unique opportunity for tourists
Sarfaq Ittuk, is going up and down the west coast of Greenland, providing three small settlements and most towns along the coast with a lifeline. When Greenland's beloved coastal ferry calls into port at the settlements, they become a hive of activity and a stage for joyful reunions. Passengers on board are informed by the bridge on the sight of whales. The ferry ride is not merely a mode of transportation, but an experience – whatever the weather. The trip is also a great opportunity to get to know the locals.
The ferry goes from Qaqortoq in the south, right up to Ilulissat in Disco Bay. You can travel the entire distance or part of it.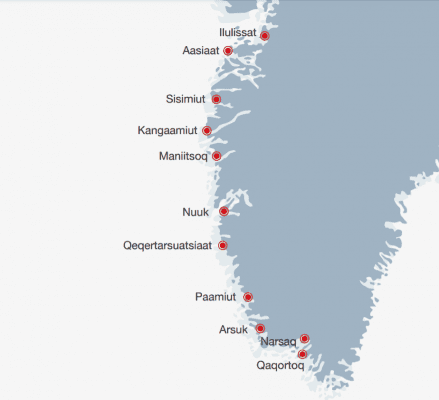 Source: Arctic Umiaq Line
Experiences on board – Greenlands secret gem
As a tourist, it is an opportunity for you to experience the Northern Lights, whales, unspoiled nature and, not least, enjoy an unforgettable and moving encounter with the inhabitants of the small settlements. These experiences are part of the life on board for the ferry's passengers. At some times of the year, travelers experience the Northern Lights, and at other times, they enjoy the midnight sun.
Sarfaq Ittuk has a lounge with panoramic windows at the rear of the ship, offering views of the stunning mountains, vast plains, massive icebergs and most likely whales. On board the ferry, you will here and there find photographs of polar explorer Knud Rasmussen, who had a huge impact on Greenland, and recalls a time when transport was not by ferry such as Sarfaq Ittuk, with all its modern amenities. Here, the sense of adventure lives on. There are also amazing experiences to be had outside, on the top deck, for example. The loungers are often pulled out on summer evenings, when the sun does not go down. Tourists call Sarfaq Ittuk Greenland's secret gem, as it provides a great opportunity to experience Greenland from the sea and to really meet the locals. And that's a very good description.